Galapagos Islands, Ecuador & Peru – (14 days)
Fly to Quitos Ecuador spend one night then transfer to your 4/5 star cruise ship for a 5 day, 4 night cruise of the Galapagos Islands.
Included:
While on cruise 3 meals a day
Peru – 4 star hotels with breakfast
Entrance tickets
Internal Airfares between and in countries.
All internal transfers, to hotels, airports, tours etc.
All trains and bus tickets. Guide fees.
Not Included:
International airfare to and from the destination, please contact us for the best available prices from your home city.
Travel Insurance is not included, but available, please contact us for the best options for your family.
Meals and drinks not mentioned in the itinerary below.
Tours not mentioned in the itinerary below.
Gratuities (optional).
Minimum of 2 guests for this tour.
Day 1 – Arrive in Quito, Ecuador and transfer to your 4 star hotel with breakfast.
Day 2 – Transfer to Baltra, Galapagos Islands and board your ship for your 5 day, 4 night cruise
Santa Cruz Highlands – Santa Cruz Island
Reached by bus from Puerto Ayora, the highlands of Santa Cruz are a deep green, contrasting beautifully with much of the dry, lower islands. The dominant vegetation in the highlands is the Scalesia trees, creating the lush green color. The lava tubes, over half a mile long, are underground and walking through them is a unique, surreal experience.
Highlights: Lava tunnels, wild tortoises, tortoise breeding center.
Activities: Hike (1.5 mi/ 2 ½ km)
Cruise Itinerary: 
5 DAY CRUISE

Thu.

AM

Arrival in Baltra and transfer   to boat

PM

Santa Cruz: Black Turtle Cove

Fri.

AM

Santiago: Sullivan Bay

PM

Rabida Island

Sat.

AM

Isabela: Urbina Bay

PM

Isabela: Tagus Cove

Sun.

AM

Fernandina: Espinoza Point

PM

Isabela: Vicente Roca Point

Mon.

AM

Santa Cruz: Highlands
Transfer to the Baltra airport
ITINERARY MAP – GALAPAGOS LEGEND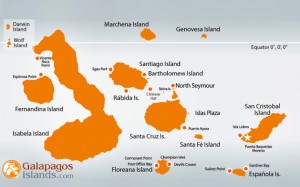 Day 3 – Sulivan Bay to Rabida Island
Rábida Island (Jervis) is one of the most colorful and volcanically varied islands in the archipelago and a great snorkeling site. Its famous maroon sandy beach and stunning lookouts provide wonderful landscapes. The island is a birdwatcher's delight. Some of the rarest species are in abundance, such as nine varieties of finches, large-billed flycatchers, Galapagos hawks and brown pelicans.
Highlights: Snorkeling: white-cheeked pintail ducks, colorful fish, sea lions, brackish water lagoon, penguins, Galapagos hawk.
Activities:  Snorkeling, dinghy ride & short hike (0.6 mi /1 km)
Day 4 –Urbina Bay to Targus Cove
Urbina Bay – Isabela Island
Urbina Bay is located at the base of Alcedo Volcano on the west coast, between Tagus Cove and Elizabeth Bay. This area experienced a major uplift in 1954, causing the land to rise over 16 feet. The coast expanded half a mile out, leaving marine life stranded on the new shore. This area is also a great place for snorkeling.
Highlights: Land iguanas (the biggest in Galapagos), hawks, coral reef, giant tortoises; snorkeling: turtles, rays, tropical fish
Activities: Snorkeling, dinghy ride & hike, 2 trails: short (0.6mi/1 km), long (1.9mi/3km)
Tagus Cove- Isabela Island
Tagus Cove is located across from Fernandina Island, near the Bolivar Channel dividing the two islands. This spot has been frequented by ships since the 1800s, using the area as an anchorage site. Trails winding by Lake Darwin up to a ridge display wonderful views. Punta Tortuga, just north of Tagus Cove, is another lovely beach surrounded by mangroves.
Highlights:  Penguins, flightless cormorants, Darwin Volcano & Lake
Activities: Long hike, snorkeling, dinghy ride
Day 5 – Espinoza Point to Vicente Point
Vicente Roca Point – Isabela Island
Located on the northwestern coast of the island and comprised of two separate coves, this site is a large bay with spectacular sea life. Seahorses, sea turtles, and the strange yet fascinating mola-mola (sunfish) may be spotted here. This bay is great for diving and snorkeling.
Highlights: Penguins, blue-footed boobies, terns, Nazca boobies, sea lions.; snorkeling: sea turtles, rays and puffer fish.
Activities: Snorkeling & dinghy ride
Day 6 – Ship Disembarkation for your flight to Lima, Peru. Arrival in Lima, and transfer to your 4 star hotel.
Day 7 – Lima on your own
Day 8 Flight to Cusco with transfer
Pick up from the airport in Cusco and transfer to your hotel (3,350m/10,991ft).
Afternoon Tour of Cusco, Sacsayhuaman, Kenko, Pucapucara, Tambomachay
Pick up from your hotel. Visit the Cathedral of Cusco, Koricancha or Temple of the Sun, the archaeological complex of Sacsayhuaman, and archeological sites of Kenko, Pucapucara, and Tambomachay. Return to your hotel.
Overnight in Cusco.
Day 9 – The Sacred Valley of the Incas (2,800m/9,184ft)
Pick up from your hotel. Visit the artisan market and Archaeological Site of Pisaq. Lunch in Urubamba. Continue the tour visiting the Archaeological Site of Ollantaytambo while enjoying the spectacular mountain view. Finally, you will visit the textile and picturesque town of Chinchero.
Overnite Aquas Calientes  Breakfast included
Day 10- Machu Picchu entrance with guide and lunch at the Sanctuary Lodge
In the afternoon transfer back via expedition train to Cusco for overnight at your 4 star hotel, breakfast included in the morning
Day 11 – Transfer to Tour bus stopping in Andahuaylillas, Racchi, Puccara, to have lunch.  Transport, guide, lunch and entrance tickets included (duration: 10 hours).
Overnight stay in Puno, includes breakfast.
Day 12 -Transport, guide, entrance ticket, visit the pre-Inca cemetery of Sillustani.
Overnight stay in Puno, includes breakfast.
Day 13 – Uros and Taquille Islands Tour
Overnight stay in Puno, includes breakfast.
Day – 14 – Transfer to Juliaca Airport for flight to Lima and your onward flight home
Prices starting from:
$4,950.00 U.S. per person, based on double occupancy
Above pricing includes taxes where stated. In Canada, GST/HST included. Country taxes that must be paid locally are not included. Prices listed were correct at time of publication. Prices can change to reflect exchange rate changes. Custom World Vacations reserves the right to amend prices at any time without prior notice. All vacations are subject to availability.