Croatia, Herzegovinia and Montenegro (with Inter Island cruise from Dubrovnik or Split – 14 days)
What's included: 
4 or 5 Star hotel in Dubrovnik
Free WiFi
Breakfast daily
Six lunches
Captains dinner (one)
"Premium" Plus Cruise Ship
Choice of cruise itinerary:

Dubrovnik to Split
Split to Dubrovnik
Split to Split

All transfers (3) and tours (4) as indicated
What's not included:
International flights to and from tour.  Contact us for the best prices from your city
Additional meals and drinks not indicated in Itinerary.
Any internal country fees, taxes or permits
Taxes, fees and charges not included in the itinerary.
Travel Insurance
Gratuities
Minimum of 2 guests for this tour.
Day 1 – Arrive in Dubrovnik, Croatia and transfer to your 4/5 star hotel
Day 2 – Orientation and walking tour of city.
Day 3 – Mostar and Herzegovina (full day up to 12 hours)  
Mostar is a city of contrasts, culture, colour and cuisine. The city is divided by not only the Neretva River that flows through it but also by religion and culture from one bank to the other. Mostar with it's spectacular Old bridge, in neighbouring Bosnia and Herzegovina, is a memorable place to visit is where "east meets west" and where the journey to it is invigoratingly full of contrasts. Just a short drive up the Adriatic coast and then inwards following the breath-taking Neretva Valley will offer stunning views of the local countryside. Here the Neretva River enriches the land bringing to your senses the colours and scents from mandarin and kiwi plantations.
ITINERARY:
07:40 – 08:20 Hotel pick-up
08:20 – 11:00 Drive to Počitelj with a comfort stop
11:00 – 11:30 Free time in Počitelj
11:30 – 12:00 Drive from Počitelj to Mostar
12:00 – 15:00 City tour of Mostar and free time
15:00 – 18:00 Drive from Mostar to Dubrovnik
Day 4 – Montenegro with a visit to Kotor, Budva, Sv.Stefan (full day up to 12 hours)  
Montenegro is the "Hidden pearl of the Mediterranean". Montenegro day trip takes you to a country with population of a little under 700,000. This tiny Mediterranean country is a forgotten jewel, a secret kept by those who have visited. Steeped in tradition, history and culture, the country has remained untouched for centuries. Montenegro is a place that simply needs to be experienced. With medieval walled cities such as Kotor and Budva dating from the 14th century and new resorts catering for thrill seekers, Montenegro has it all. It is a country of contrasts, the new and the old, the mountains and the sea, sun and snow and all of this a little more than a stone's throw from Dubrovnik. Although the country is relatively small it includes four national parks, Europe's deepest canyon, the largest bird sanctuary in Europe and 180 miles of coastline the majority of which is sandy beaches.
Not included: Entrance tickets to museum (optional), lunch
ITINERARY:
07:30 – 08:00 Hotel pick-up
08:00 – 11:00 Drive to Kotor with a panoramic stop
11:00 – 12:30 City tour and free time in Kotor
12:30 – 13:15 Drive from Kotor to St. Stefan
13:15 – 13:30 Panoramic view of St. Stefan
13:30 – 13:45 Drive from St. Stefan to Budva
13:45 – 16:00 Free time in Budva
16:00 – 18:30 Drive from Budva to Dubrovnik
Day 5 – Free Day to explore on your own.
Day 6 – Korčula & Pelješac tour from Dubrovnik – Ston – Korčula – Orebić (Deep in Dalmatian wine country) (full day up to 12 hours)  
Two destinations in the Dubrovnik County that spring to mind when one thinks of wine are the Pelješac peninsular and the island of Korčula. The scenic peninsular of Pelješac stretches out like a green finger into the Adriatic Sea. Picturesque vineyards cling to rocky slopes dotted between the thick Mediterranean vegetation. Then just a short ferry ride brings you to an island steeped in history, an island with a walled city, the island of Korčula. A day trip to Korcula and Peljesac wich are jewels of the Croatia coastline will leave you awestruck at their natural beauty and spellbound with their historical roots.
ITINERARY:
07:40 – 08:20 Hotel pick-up
08:20 – 09:15 Drive to Ston
09:15 – 10:00 Free time in Ston
10:00 – 11:15 Drive from Ston to Orebic
11:30 – 11:45 Boat ride across the channel to Korcula
11:45 – 15:00 City tour of Korcula and free time
15:05 – 15:20 Boat ride to Orebic
15:20 – 15:45 Drive to local winery
15:45 – 16:15 Presentation and wine tasting
16:15 – 18:30 Drive back to Dubrovnik
Day 7 – Day 13 – Croatian Inter Island Cruise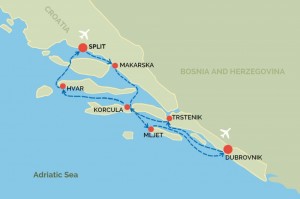 Transfer to you Croatian Inter Island Cruise.
Return Itinerary
Our Explorer cruises are perfect for discerning travellers looking for a blend of sightseeing, relaxation and socialising. Best suited for couples, young professionals and 'young at heart' travellers, the Explorer trips are 7 day cruises departing every Saturday from Split and Dubrovnik on our Premier and Premier Plus ships.
Explorer cruises are great for unwinding and experiencing the true beauty of Croatia, whilst taking in the culture and history of the country. The emphasis is on taking in more sightseeing than on the Navigator cruises, whilst still giving you some socialising options in the evenings.
Day 14 – Disembark and transfer to the airport for your flight home. 
Prices starting from 2,923.00 US per person, based on double occupancy.